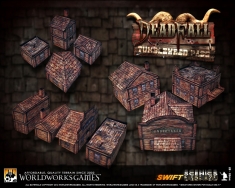 Those of you who like papercraft terrain might like this.
World Works Games just released their latest set for their Deadfall wild west line, Tumbleweed Pass. A set of buildings that you can print out and glue together. It's designed to work well with their other sets, Streets of Blood and Deadman's Canyon.
Has anyone tried any of their sets?